Coffee Styling Sheet: Coffee as a CSS Color
They say developers could work only for coffee. I don't think that's true (but maybe not too far either). So this week's cartoon will mix two of my favorite things: coffee and CSS. And in particular, I will focus on CSS colors and how different types of coffees can be represented similarly to CSS colors.
We all know about RGB, Hex (also RGB), and HSL (which, funny thing, is also RGB). And new color formats have popped up in the CSS standard: L*a*b*, LCH, CMYK, HWB, OKLCH... So many people have asked me, "Why do we need so many color formats in CSS?" And that is a fair question that I will try to answer with today's cartoon.
And I will do it with the help of an existing CSS color function: HWB. Although HWB stands for Hue-Whiteness-Blackness, I modified the letter meanings (just) a little to fit my purpose:
H = Hot water = water (duh)
W = Whiteness = milk (foamed, frothed, steamed, etc.)
B = Blackness = coffee (the cause of, and solution to, all of life's problems.)
After this long introduction, finally, here's today's cartoon: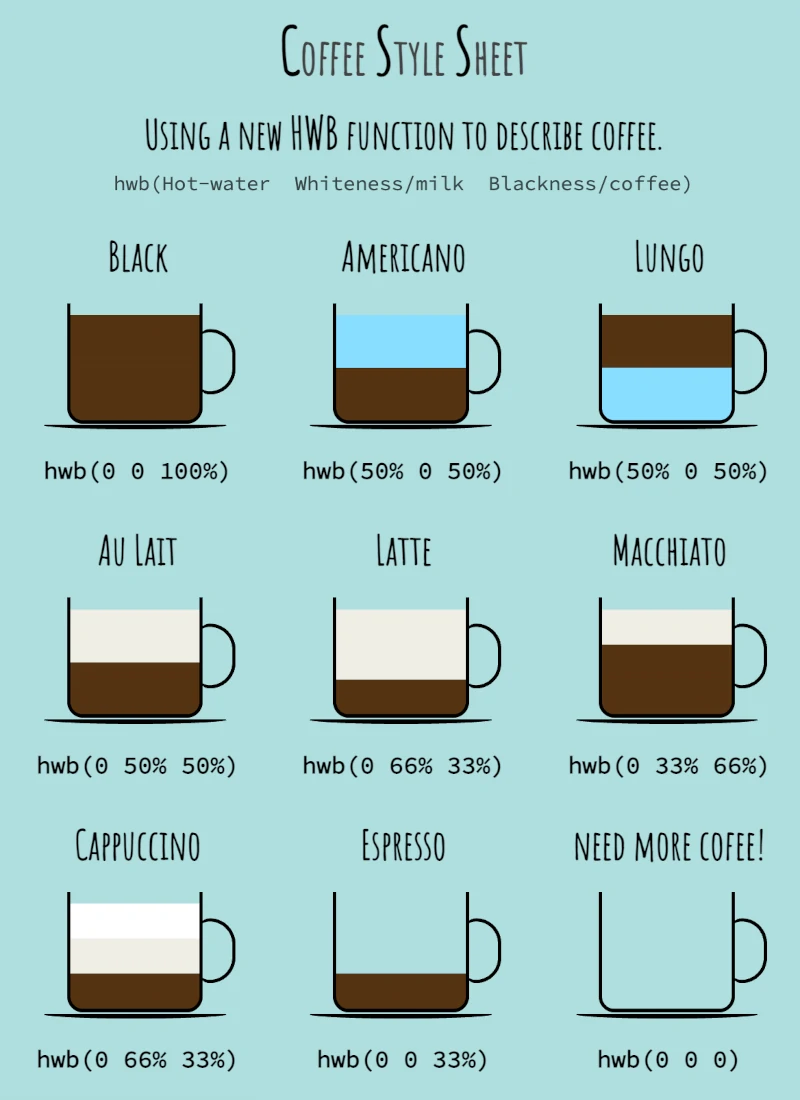 Note: I did a secondary version of this cartoon without the description (I find it cleaner).
While I like the idea, it is limited: how about if we want a mocha? Mochas have chocolate and hwb() does not have a way to represent chocolate. It's only water, milk, and coffee. With those three basic ingredients, we only get to create the coffees on the infographic and some more (cortado, café bombón, or galão, to name a few). Still, we are missing a ton more: Irish coffee, espresso romano, marochino, etc., and we cannot create them with just water, milk, and coffee.
Even for the ones in the cartoon, my newly created hwb() function is not enough. For example, check the cappuccino: it is 66% milk and 33% coffee. It seems misleading that it has the same composition as a latte, but they are not the same: in a cappuccino, the milk is half steamed and half foamed.

It would be nicer if we had a different way to express those details. And that's what happens with CSS colors too! We have been using RGB for a long time, but RGB is limited. The CSS Color Module Level 4 introduced new ways of writing colors that modernize the web and bring a world of possibilities: Lab, LCH, OKLCH, CMYK, the color() function... and those color spaces offer more options than the standard RGB.
In the case of a mocha, we are missing the chocolate (which is not an option in HWB)... so why not use LCH instead?
L = Lightness/Leche/Lait/Latte = Milk
C = Chocolate
H = Hot coffee
Now we could use that function to do lch(20% 40% 40%) and get a nice Mocha. And notice how some of the coffees in the chart can be defined with LCH (basically all except the Americano and Lungo.)
And same thing happens to the CSS colors: some color functions will allow you to create more vibrant colors than others, and some will be easier for the computer or more straightforward for humans. Some overlap is expected, and that's completely normal. Pick the best color format for your project needs, and enjoy. It is an exciting time to play with CSS colors.
---
If you want to read more about color functions, check directly the CSS Color Module 4 (and level 5 for some great new color functions!). They are surprisingly straightforward. You can also check an article I published a couple of years ago... but be warned that it is a bit outdated as the standard has changed continuously since I wrote it.